To realize their CREALIS® 3D product configuration tool, ORISA Software GmbH uses X3DOM.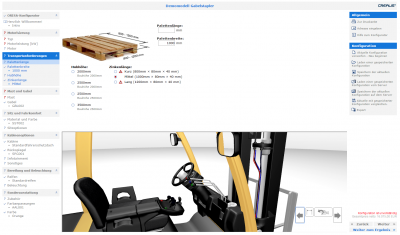 Check out a demonstration video here!
Product Configurator CREALIS® is the well-proven configuration system for manufacturers of variants in mechanical engineering, plant construction, and automobile industry as well as in automation and ancillary industries. CREALIS® has a clear and user-friendly interface and serves as an optimal and efficent sales and marketing instrument in the sales department. CREALIS® 3D supports the illustration of the product to be configured in realtime 3D within the web browser. The software tool can visualize large models three-dimensionally in all web browsers on computer or mobile devices and no additional plug-ins are required. The visualization shows the current configuration status at any time and supports the sales of products requiring extensive consulting.