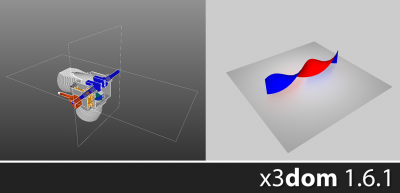 We are proud to announce a 1.6.1 release of X3DOM. This release mainly contains some new features, fixes and corrections since the last 1.6 release. It is a maintenance update and recommended for all 1.6 users.
Features
SphereSensor support

Documentation available here
Fixes and Enhancements
Improved GeoOrigin support
Multi-touch support for TURNTABLE navigation
Fixed shader removing from appearance
Moved fog application to the correct place
Fixed ElevationGrid setAttribute
Increase X3D compliance: don't encode urls at sight
Fixed calculation of bounding box for Flash backend
Added fog to the Flash backend
Fixed normal transformation for the Flash backend
Fixed the check for enabled double-click
and more…
Grab the frozen 1.6.1 version here. The cutting-edge development version (nightly build of git head) can be found here.