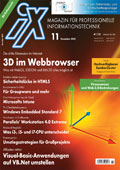 Find our IX special sites on http://www.x3dom.org/iX/.
The all new November issue of German IX Magazine covers a huge story on 3D inside web browsers that features our X3DOM technology and xml3D. Beside an exploration of modern browser's technological capabilities there are tutorials and examples on both systems. There is also an online article available.
In addition, have also a look on our latest tutorials and examples.